FACE MAKEUP 101
HOW TO FIND A CONCEALER SHADE FOR YOUR SKIN TONE
TIPS FROM MAKEUP ARTIST GRACE LEE
We've all done it. We've all been there. That too-pale under eye concealer that somehow only makes your dark circles look worse. That too-dark or weirdly peachy concealer that glaringly sits atop your pimple as if to say, "Hey world, look right here!" Yes, when concealer goes wrong, it goes really wrong. And 99.9% of the times it goes wrong is because you are wearing the wrong shade of it for your skin tone.
It's important to point out that concealer isn't meant to be used to even out skin tone—most concealers are quite opaque and will show up easily if you use them like that. Even out skin tone with your foundation first, and use your concealer to cover up blemishes and dark circles.
HOW TO FIND A CONCEALER SHADE FOR YOUR SKIN TONE?
The rule of thumb for picking your concealer shade is based off of your foundation shade.
Beauty experts advise that everyone should have two shades of concealer in their arsenal, one lighter, one darker, since daily sun exposure means your skin tone shifts slightly all the time. Plus, makeup artists use multiple shades of concealer for different end effects.
HOW TO FIND A CONCEALER SHADE FOR BLEMISHES?
Maybelline MUA Grace Lee recommends using "a slightly darker concealer when covering blemishes to block out the color of the pimple. After, use a lighter concealer or a concealer that matches your skin tone to blend the two together."
Pro-tip: If you're using concealer underneath a face mask, try Super Stay Full Coverage Long Lasting Concealer, which is smudge and transfer-resistant!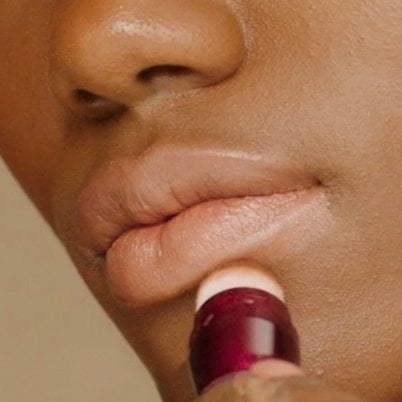 HOW TO FIND A CONCEALER SHADE FOR UNDER EYE CIRCLES?
To conceal dark under eye circles, choose one shade lighter than your foundation shade match.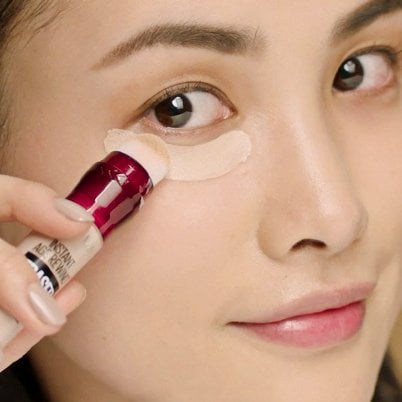 HOW TO FIND A CONCEALER SHADE FOR CONTOURING?
For contouring, choose a concealer shade that's 1-2 shades lighter or darker than your foundation shade match.
"To use a concealer as highlighter, you can simply apply the lighter concealer shade where you naturally want highlighted," says Lee. "For example, top of cheekbones, under the brow bone, middle of forehead, bridge of nose and chin. Laugh lines are also popular to highlight. Applying a lighter concealer on top of the laugh lines help the lines appear less prominent." Instant Age Rewind Eraser Dark Circles Concealer Treatment is our go-to for this!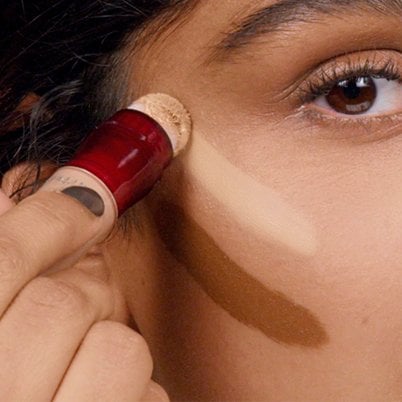 HOW DO I CHOOSE A CONCEALER SHADE ONLINE?
The most foolproof way to choose a concealer shade online is to use our Foundation Shade Finder tool. It recommends your perfect foundation and concealer shade matches based on your skin tone and undertones!